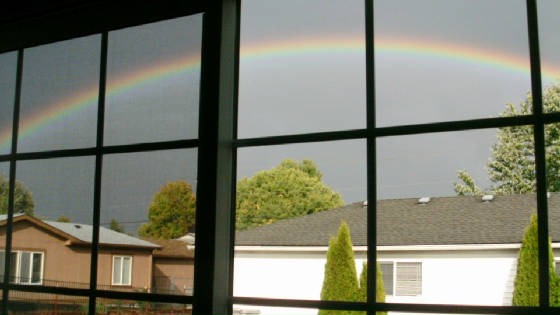 Rainbow that formed right outside my living room window during my birthday celebration on 10-24-2014 It's MAGIC!

Like Joe, Dr. Steven Greer believes we can all quite naturally tune into higher consciousness and the WSFM Station—Weird Science and Fricking Magic, lol. It's a great station where all kinds of magic and miracles can happen! Being redundant, I've been taken on many magical treasure hunts; was led to finding a highly symbolical silver yin yang talisman buried in my back yard; unexpectedly had a diamond wedding ring delivered to my front door by a neighborhood handyman who served as the messenger; was gifted with magical red roses on a yellow rosebush as a return gift for dedicating yellow roses to Joe; and I have been recipient of literally hundreds of other magical surprises from some very powerful, magical "god." It's all right here on this website (with some "spillover" onto another website and then back here again)…and now I understand why I've been "prompted" to document it in spite of objections from the peanut gallery. Together, we are showing the world what's possible.

How does all of this magic happen? Einstein called such phenomena "spooky action at a distance." I now realize I've been tuned into that WSFM station Dr. Greer speaks about in his lecture—for quite some time—in fact, ever since Joe left this planet. My blogs totally runneth over with "weird science and fricking magic," including hundreds of treasure hunts, some outrageously funny teachings from Master Hermes Trismegistus, himself, about "Eager Beavers" AND some hilarious surprises from Uncle Albert Einstein who also has a wonderful sense of magical humor, as well as special messages, teachings, poetry, etc., from some of the other members of my soul family.

However, I must let you know before you miss out on experiencing this superb kind of magic for yourself that I do believe time is running out and we are at THE crossroads of the eon, the Golden Age, and you're either with us on the Golden Treasure Hunt One Love Path or you'll be left behind soon. I think we are rapidly passing by the "crossroad" or the final "choice point." Once past the crossroad, there's no turning back. If you take the wrong road, it drops off into a deep, dark abyss and a very long detour. And I hear that this Golden Opportunity doesn't come around again for many thousands of years! What to do?

My suggestion is to get up to speed quickly…it's all right here on this website (my personal, true and amazing examples of WSFM and all of the info about Joe's amazing books and articles that will guide you). I am also reminded that Uncle Albert (Einstein) told me several years ago that he had solved the theory of unity and that it was right under our noses (I wrote about that in these blogs, back in 2009, I believe, and of course, Joe knew that secret and it's hidden in his work)…I think we are getting closer to revealing the solution which has been obfuscated up to this point.

And don't forget the most important part of all-- the LOVE part--Joe was not kidding when he said NOTHING is more powerful than love! I really think that's why the magic in my life has been SO AMAZING….I do love Joe beyond the farthest stars. And so he keeps loving me back and proving to me over and over again with his most amazing magic how much he appreciates my love, as do the rest of my wonderfully amazing and brilliant members of my soul family: too many to name, but included are Lady Portia and St. Germaine (my grandparents), Albert Einstein (my uncle), Ralph Waldo Emerson (my cousin and one of my best friends), Sam Cooke and Warren Zevon (my brothers), and so many more….I love them all!

And so you are interested in love and magic in your life, of course. Who wouldn't be? Where should you begin? I suggest listening carefully to the videos below. They are chocked full of amazing information to expand your mind, and then go where you are led from there.

The Crossing Point of Light A Workshop with Dr Steven Greer - FULL

Dr. Steven Greer on the Conscious Evolution Radio VoiceAmerica, 19.6.2015,

James Gilliland on the As You Wish Talk Radio, 27.6.2015

Also, here's some other important information to bring you up to speed—explanations of Father Hermes' work. You need this background information and practice in order to move up to the next level:

Gerald Clark 7th Planet Mercury Rising Emerald Tablet 14 Video

Gerald Clark 7th Planet Emerald Tablet 15 Video

Be sure to listen to your teachers in other spaces and places. Work on expanding your consciousness….as big as you can make it. I have found that reading Joe's books will help tremendously with that. Focus on learning everything you can from Joe's book, Knowledge and Critical Pedagogy: An Introduction….and then go from there, reading his other books…for example, Critical Constructivism introduces you to a whole new philosophy that's beyond amazing, as does Critical Pedagogy Primer..and bricolage, well, let me just say this: Joe's bricolage ain't your mama's bricolage!

Happy travels! In the meantime, I have a very important and divine engagement in another dimension tonight….more soon. Maybe.

Get off your damn fences! (This song comes from Joe—can you find where he references it?):

11:58 am |
The second night of our anniversary celebration was absolutely superb—pink champagne and more Kizomba dancing at the Queen's Club. I have had this "experience" of this dance with Joe for a long time (maybe an eternity), remembering it and dancing like this, but I did not know its origins, the name of the dance or anything else about it. We have a sort of secret room behind magic bookcases in our bedroom that has a crystal ceiling that opens up to the stars where we "hide-out" and dance just like in the video. It's just a most beautiful dance in my view, thus, I'm reposting it here a second time, and I also did a little research on the origins of the dance.
RERUN
Royal Love - Crazy Kizomba Mauritius & Mr Love
What I have learned is that the dance originated out of South Africa in the region of Angola [https://en.wikipedia.org/wiki/Kizomba]. The history of that region is extremely fractured because apparently there were a peoples living there before the peoples now who are collectively referred to as the "San." The genetic diversity of the "San" is great, so it's not really appropriate to subsume them all under one label, but this is what's happened. The interesting thing is that they are completely different culturally and ethnically from the original people who had inhabited that area—and who apparently had disappeared. It would require a very deep historical study to trace all of this down. I have heard it said that civilization originated in Africa and I have always believed this to be true—and there are hints in ancient Sumerian texts that Enki was the father of the civilization that had developed in that area. He was given this particular area to rule over, although Enki never "rules over" people—he loves people and treats them as his equal…According to Wikipedia, "Angola is a country in southwestern Africa. The country's name derives from the Kimbundu word for king." And of course, Enki was regarded as King (and still is—and if you don't understand kingship and egalitarianism, I explained it in my last blog—scroll down to read it). [https://en.wikipedia.org/wiki/History_of_Angola]
Joe speaks often of the "discontinuities" of history. This would definitely be one of those discontinuities—it appears a complete culture mysteriously vanished. We had a beautiful discussion about this before he departed and he mentions it often in his work. In fact, he even mentions it in the ecumenicalism discussion I keep saying I'll discuss (but it keeps getting postponed); it's covered in that special assignment of pages 62-67 of Rigour and Complexity in Educational Research:Conceptualizing the Bricolage. Specifically, he states, "The historian finds deeper and more revealing meanings for an event, as she uncovers more and more previously unexplored relationships" (pp. 63-64). What he's discussing here is the outcome of symbiotic hermeneutics, a very complex phenomenon that kicks into high gear as more and more relationships become revealed and you interact with those relationships…as he explains:
Thus, symbiotic hermeutics maintains that all people, places, and things are parts of greater unities. The multiperspectival nature of the bricolage helps researchers reveal relationships and tune into these larger unities. Individuals become fully human by revealing these processes in their own lives. Research develops a higher degree of rigour by revealing these processes in the world of ideas and information. In this way the relational ontology pushes the boundaries of Newtonian science, as it refutes the notion that more than one object can occupy the same space. Relationships by their nature position objects in the same space. (p. 64).
This observation is profound once you can wrap your mind around it…and it is multidimensional in its application. Of course, what he's saying (among other things) is that Newtonian science has us believing that only one object can occupy any given space (and what we believe is what we see). When we really come to fully believe that multiple objects can occupy the same space, we will come to perceive that. We will then become more human (we are not shutting out relationships merely because we can't see them with our eyes). This requires what Joe has referred to as "Fourth Dimension Research," an intuitive ability that requires great practice…and as we gain practice, we become more human and research becomes more rigourous.
Interesting! It looks like I'm the guinea pig—demonstrating how I gain and improve those abilities through practice.
Thus, we come to envision the "discontinuities." We see what other people cannot see. We form relationships with people that other people cannot see. In fact, he even acknowledges this as our task, stating, "Indeed, symbiotic hermeneutics unabashedly focuses on relationships that typically cannot be heard, smelled, viewed, felt, or tasted." Note that he uses the word typically. This would imply that there are people who can sense these relationships, such as I have come to do, but that it's not typical.
And so, all of this brings me to some fourth dimension research that came my way just yesterday morning…some teachings I received from the Great Master of Masters, himself. What I am learning is that there are the Snake People and there are the People of the Serpent. They are entirely different entities. The Snake People are very evil, have no compassion, have no remorse—and they are the ones who have pretty much tried to take over the world. A lot of people call them "reptilians" but traditionally they are the Snake People. We might classify them as the "Elite." I do think their days of having so much power is over, however, and that their actions now dissolve before they can get very far. In fact, over the past few days, a number of things have happened that have extinguished some of their actions. I spoke in the last several blogs about how they are running scared. More recently more incidents have been happening that signify things are not going well for them. Just as a few examples:
UPDATE ON THE ELITE & BILDERBERG DILEMMA
I think the Elite are really in trouble—it's no wonder so many of them are high-tailing it to places they think they'll be safe (I discussed this in my last two blogs—this is just an update to some of the problems they seem to be encountering):
Maybe it's not going to be so easy for them to escape to another planet?
Dr Paul Craig Roberts: GREAT DANGERS AHEAD
(Pay attention to what he says about Greece)
Greek crisis: Banks shut for a week as capital controls imposed - as it happened
It looks like the Greeks will no longer be playing the money game with them.
So who are the People of the Serpent? Well, it appears they are descendants of Enki, or Enki's People somehow. They have very special abilities—but the thing is, they also believe everyone can develop the abilities if they put their minds to it---thus Joe's work! He shows us how through his philosophy and critical complex theories how we can do so. At any rate, because history is so muddied, there is a lot of work to do to uncover the greater truths. But what I've learned in my fourth dimension research—teachings from my Teacher—is that first of all—in relation to our anniversary celebration:
It was extended to honor us and the very difficult path we both chose—and how successful we've been at getting the messages of salvation out to the people. And by salvation we mean self-salvation because no one can do it for you. And while you may not have seen it nor experienced it (as is the case with those who have not symbiotically united with another individual, aka soul union), as Joe's work informs us, this does not make it "not real." I can assure you that my experiences in other dimensions are thankfully MORE REAL than in this dimension which Joe calls "hyperreatity." Thus, according to reports, we were greeted and honored to have present at our Queen's Club Dance "all the peoples of very Ancient Africa."
Sadly, the history of Africa—as all over the world—has been distorted. There are the "discontinuities" that Joe discusses and they occur for multiple reasons: History is lied about, rewritten; History is hidden; History has been distorted and called religion, with each religion having its own version—and this highlights the reason Joe brings up ecumenicalism. We must do INTER-disciplinary research to uncover a more accurate account of history. We must take an "ecumenical" comparative religion approach, combined with information from historical accounts, recovered artifacts, and new archeological finds. And we must reach higher levels of consciousness to connect in with those who have access to greater knowledge and truth (sometimes labeled as an "intuitive" approach).
I also learned, as I mentioned, that the beautiful Kizomba Dance originated out of South Africa, in Angola, but that it originated from the People of the Serpent and was gifted to the people of Angola….there is more yet to be revealed.
And now to a very different kind of discontinuity that relates to the People of the Serpent—they can disappear. This is how the concept "resurrection" came about. They can disappear and reappear at will; and they can totally disappear permanently if they choose and occupy a different dimension—which is what seems to have happened in not only South Africa before the "San" peoples came on the scene, but also with the Aztecs and Quetzcoatl. Here's a brief summary:
The Origins of Quetzalcoatl
Experts on Aztec religion believe that the figure of Quetzalcoatl (pronounced Keh-tzal-coh-AH-tl) emerged from the combination of a pan-Mesoamerican god and a historical leader, Ce Acatl Topiltzin Quetzalcoatl. The story goes that this hero, probably a king and/or a priest, left the Toltec capital of Tulaafter an episode of treachery, and promised to return. Whether or not this legend describes real events is still under debate among scholars. This episode is also linked to the legend of the mythical city of Tollan, whose peaceful king Quetzalcoatl was deceived by his violent opponent, Tezcatlipoca, and forced into exile. [http://archaeology.about.com/od/Aztec-Religion/a/Queztalcoatl.htm]
And here are some interesting accounts/perspectives:
Quetzalcóatl, the path to liberation
Shining Ones: Global Phenomenon
CHASING THE DRAGON (the naga serpent) part one
CHASING THE DRAGON( NAGA SERPENT) PART TWO
The truth about GOD and the serpent (Kundalini) PART 1 of 2
The truth about GOD and the serpent (Kundalini) PART 2 of 2
The Kundalini Is The Holy Spirit! (What Your Pastor Is NOT Telling You)
Mystery of Kundalini Force (Hidden Serpent Power in Human), Occult Anatomy of Man; Manly P. Hall
There are still hidden secrets! We will be working on revealing those secrets. I love it when religious people with flawed doctrine/thinking critique other religious people with flawed doctrine/thinking…all we have to go on are our experiences and interpretations of our experiences. Perhaps, it's a mistake to teach anything beyond our own personal experiences, other than to convey how other people are interpreting things that are/are not their experiences. It's pretty easy, for example, if you have had an experience, such as a kundalini awakening or a "baptism" of the Holy Spirit (both of which are profound and undeniable), it's generally easy to tell by someone else's description whether they have actually had the experiences. Thus, I know, based on my own personal experience that these two phenomena are not the same—for me, there were major differences in how they manifested and there are differences in how they feel, especially when they first occur. However, there are also similarities--and with time, as the alchemization process progressed, the two experiences came to blend somewhat. We TWO became like ONE (but the WHOLE is greater than the sum of the parts). This means that the video stating that the Kundalini is the Holy Spirit does not match up to my experience; the reality is that it is much more complex—a fact that most people do not want to acknowledge because they want simple answers. There are no simple answers! Thus, we have Joe's philosophical and theoretical work to help us gain deeper and broader knowledge. Please note here that we do not sacrifice depth for breadth in our learning, as is so commonly believed and often forced upon us in our educational systems. We do not restrict our learning in this way. This is why we always maintain tentative answers, staying open to additional knowledge and experience…invariably, if something is important to our spiritual growth, we will be guided back to the topic and learn on a deeper level.
Thus, the serpent represents much beyond merely being a snake or a serpent that led Adam and Eve on the wrong path; it has been a tradedy that so many humans have believed this misinterpretation, as it's kept them in fear of knowledge (and the snake—I am still working on overcoming my fear of snakes)…the serpent symbol is multi-layered and multidimensional and as the videos show, completely intertwined within all languages of the world . Unfortunately, most people want simple answers and this results in misconceptions and lies being propagated to the extent it's nearly impossible to counter them. This gives openings for those in power to take advantage of our ignorance and create systems of domination.
There may be a reason, for example, that the "Untouchables" in India are given that name…those who can disappear at will, a skill that the People of the Serpent have, are untouchable. Denigrating and stifling this ability is powerful when a large group of people are labeled untouchable and horrifically oppressed. Keeping them denigrated and oppressed, of course, keeps them from achieving their capabilities. I am told that entire societies have vanished into thin air to escape the evil snake people. Thus, you can see the importance of Quetzalcoatl's path to liberation.
I believe that people are so oppressed today that it's become very difficult to rise in consciousness to access those higher level abilities, particularly for some groups of people. Joe's philosophical and theoretical work guides us along pathways to attain those higher levels of consciousness and take control of consciously constructing our belief systems and reconnecting to who we are and what our purpose is.
The next section is a blog I wrote on June 14 which I have been waiting for the appropriate time to post. I am receiving the message that today is the day as it introcuces the topic, ecumenicalism, I've been leading up to a discussion about—which is an extremely deep and complex topic—and one which I've been saying I would discuss in relation to why Joe mentioned it three times in the excerpt of his book under discussion here. Before I digress, I received the clue "resurrection" yesterday morning, so apparently there's a video he wants to insert here. As always, I will plug it into YouTube and see what he pulls up for me.
It brought up this movie right to the top, which no doubt has important messages relating to what I've just discussed here, since the People of the Serpent do have the ability to "resurrect":
Resurrection is a story of a woman who survives a car accident which kills her husband but she discovers that she has the power to heal other people. She becomes an unwitting celebrity, the hope of those in desperate need of healing, and a lightning rod for religious beliefs and skeptics. The film stars Ellen Burstyn
Quick Analysis: Wow, again, I am impressed with my connection to Joe! First, off, the woman's husband who was killed is named Joe, which emphasizes in my mind who is the deliverer of this "fourth dimension" message—it's coming right from who I claim it does—from Joe. Keep in mind, I have never even seen this movie and it rose to the top of the YouTube search when I put in the term, "resurrection" he had provided me this morning in writing and in quotation marks, indicating I was to research it. Also keep in mind that in Knowledge and Critical Pedagogy: An Introduction, Joe informs us that the Internet is a fractal and that it can be controlled from any dimension (this makes me wonder if this is something that the Elite may fear, given how much emphasis they are placing on controlling us with technology—their project may be doomed to fail). In the movie, after the woman leaves the hospital it's revealed that she was moving from Kansas (We're not in Kansas anymore, folks…implications of the Wizard of Oz story). She meets a man at a remote gas station that shows her a two-headed snake—this is an amazing symbol that comes after my having written the information about the difference between the Snake people and the People of the Serpent. It signifies twin flame/twin soul unions—they have separate yet shared consciousnesses, shared physicality. This is the missing information in the explanations about Snake People versus People of the Serpent! Going back to Joe's quotes above, we occupy the same space. And this is the significant difference between Snake people and People of the Serpent—People of the Serpent rise in consciousness to connect with each other, two as one, as in the original meaning of symbiosis which Joe discusses in that excerpt—and, as the movie shows—they share their gifts of POWER symbiotically (and now we have yet another dimension to consider for analyzing power with Joe's multidimensional critical complex bricolage). Amazingly, this is exactly what the excerpt from Joe's book which I've been discussing is all about—symbiotic hermeneutics—it means interpreting these unexplainable phenomena as depicted in the movie from a symbiotic perspective rather than, say a religious perspective that's tainted with indoctrination. The implication is that she is receiving her powers from her husband, Joe, and perhaps others from the "other side." And indeed, in the movie, a fundamentalist pops in to say that the healing work she has been gifted with is the work of the devil….but is it really? On the other hand, what many fundamentalists leave out is that Jesus had said he would go to the Father (God) and send us each the Holy Spirit in the form of personal teachers! When I view Jesus as "the way," it is in the sense that he did show us how to reach for that power and even said that we would do greater miracles than he. I have often discussed the GIFT Joe has given me since he passed over, including the "Holy Spirit"—there are many gifts he's provided me, including a deeper and deeper understanding of his work because we are living it TOGETHER. The movie depicts the gift of healing—and Joe recommends that we read the book The Gift of Power by Lame Deer, which gives us an indigenous perspective. He makes this recommendation on page 20 of Knowledge and Critical Pedagogy: An Introduction. If you have the book, see if you can find it—and keep in mind that Joe does not mention something if it's not important. He briefly mentions things to see how aware we are and whether we'll pick up on their significance and research them more deeply. I have found that when I do so, I am blessed with finding some amazing new knowledge. Another thing I found interesting was how the guy at the gas station told her that when life gives you lemons, make lots of lemonade…Joe has given me this advice so often and, together (symbiotically) we have taken it to an even higher level: Together, we have learned to make lemon pies, lol, lots of lemon pies. This has manifested so many times in my life since he "crossed over" I need to write a book about all of the lemon pies, lol. Of course, there is much more I could analyze here, but I'll save it for another time. It's important to remember that we are limited to INTERPRETATION, here and that's exactly what Joe's philosophical and theoretical work assists us with—getting deep AND wide interpretations of experiences—and staying open to learning more, which may change and/or clarify our interpretations .
Thus, the movie and the message it contains are profound in relation to what I am being taught in my personal lessons from the Great Master Teacher of the Masters, and relaying in these blogs---as well as in relation to Joe's philosophical and theoretical work. His critical science of complexity is helpful here, versus relying solely on measurement sciences, as was shown in the movie. Positivistic science is too limited in its scope and provides only a snapshot of reality (still, a piece, nevertheless which is why I object when people say Joe threw out positivistic sciences—he didn't).
And now for the blog that I had actually written on June 14, 2015 introducing ecumenicalism:
Sentimental Time Travel as a Key to End Suffering, and an Introduction to Ecumenicalism
Yesterday was the 13th. I woke up hearing this song but wasn't sure why at the time:
The Platters - Sentimental Journey (1963)
We celebrated last night since it was the first 13 day since I wrote the blog about moving beyond the number 12 to the number 13, Enki's very special number. I have always loved the number 13 and wondered why so many treat it with superstition…now I know why I love it—it's Enki's number. I also understand it's been a way to keep Enki out of the picture. They even leave off the 13th floor of buildings. It must have some sort of negative effect on our consciousness to leave such a powerful god out of our lives.
Speaking of Enki, he was so beloved by the Sumerians. This is a song they used to sing about him:
O Lord, who with thy wizard's eyes, even when wrapped in thought,
immobile, yet dost penetrate all things,
O Enki, with thy limitless awareness, exalted counsel
of the Anunnaki,
Very knowing one, who dost exact obedience, when turning his wit
to conciliation and decision,
Settling of legal strife; counselor
from sunrise until sunset,
O Enki, master over prudent words, to thee
I will give praise.
[The Intellectual Adventure of Ancient Man, Frankfort & Frankfort, et. al, pp. 147-148]
During our celebration last night, my Beloved apparently decided it's time that I and others learn a little more about the nature of multidimensionality and Divine Love relationships. He magically handed down this movie about "Time Travel" that presents multidimensionality in a variety of contexts, but of course, love is the powerful connecting force. It demonstrates how useful being multidimensional can be for us and ways it can help us alleviate suffering.
NOW I understand why he was playing that song, "Sentimental Journey" down through the cosmos. He was preparing me for this sentimental movie about being a Time Traveler's Wife, which I watched very late last night and into the wee hours of the morning. He is so brilliant in his selection of movies for me (he knows I don't like violent movies):
New Romanic Movies 2014 Full Movie English - Best Hollywood Movies - Rachel McAdams
The Time Traveler's Wife is a 2009 American romantic drama film based on Audrey Niffenegger's 2003 novel of the same name. Directed by Robert Schwentke, the film stars Eric Bana as Henry DeTamble, a Chicago librarian with a genetic disorder that causes him to time travel randomly as he tries to build a romantic relationship with his love Clare, played by Rachel McAdams.
I will point out that the movie altered things a bit for drama. There is nothing at all to fear about time travel if you engage in it from high consciousness. Now if you attempt it "on drugs," expect serious problems. And if a person can manifest their body in different dimensions, they will also manifest clothes! That part about him always being naked was silly…or maybe not; it always depends on context since he might want to land naked in his Beloved's bed, lol. And finally, the person who can time travel, according to what Hermes Trismegistus writes about in his Emerald Tablets, lives forever and they can go wherever they wish instantaneously. Thus, they don't need to say sad goodbye's to people, except perhaps to those who are not high enough consciousness to perceive the time traveler or have the ability to time travel themselves. Thus, time traveling is not a disease to cure as the movie presented it; however, the ability may very well be related to genetics, or at least DNA activation. My thoughts are that DNA activation can be facilitated through heavy-duty mind work (I believe this is what Joe's work teaches us to do). Our memories then return. Exo-scientists study and support this phenomenon (see the discussion in my dissertation, last chapter).
One thing always leads to many other things! I realized, in explaining to a friend the concept of twin flames what Joe was referring to in that excerpt he had given me to read before he left—the very excerpt in which he mentions "ecumenical" three times. Here's what I've concluded about it:
The word symbiosis aptly describes twin flame/twin soul relationships, but as with all great concepts, the original meaning of symbiosis has been destroyed. It originally and literally meant "two living together as one" and describes the interrelationship between twin flames.
Joe's own words in a special text he had given me to read before he passed over: "Relationships by their very nature place objects in the same space. We are together in this relationship--we occupy it together. These two historical events share a relationship. These six social forces share a relationship that conceptually brings them together. Such relationality forces the emergence of a new paradigm, a new focus for research. Indeed, the relationships are symbiotic, as they mutually enhance their parts. To use the cliche, the relationship is greater that the sum of the parts" (from Rigour and Complexity in Educational Research, p. 64).
The passage from Joe hints at how the relationships transcend time and space--in other words, the couple have had multiple lifetimes together. It is partly because of remembering my previous lifetimes that I know that "obsessing" over someone to whom you are connected that deeply is NORMAL. As Joe states above, we need to do more research on these relationships and understand new paradigms. To view them through the lens of what we call "normal" (which I now view as abnormal) relationships will not work. Yvonna Bloomstein's research added the relationships to the typologies for psychology--she has a book you might find interesting, "The Soulmate Experience." My research has gone further, but hers at least has been accepted into the field. There really does need to be so much more research! I get very irritated at all the people who act like they know what they're talking about, but don't take time to back it up with carefully collected and analyzed data.
My belief is that it's much like the creation stories tell us--we were created in pairs. All creation stories tell us that and I believe it's true. We've lost our ability to consciously connect and so we fumble around, marrying the wrong people. If instead of being indoctrinated for 12 years if we were to spend our educational experience becoming who we are (and more conscious) we will already be connecting to our Divine Partner. Some people have done this--they consciously meet in "dreams." The first meeting is planned at higher consciousness by the couple and they may or may not be consciously aware of making the arrangements.
What is the solution, though when the couple can't be together? Work on your passion...whatever that might be. If the person doesn't know what their passion is, then spend time discovering it. My philosophy is, "Follow your passion and the love will follow."
Joe was discussing all forms of relationships in context of research but his work is heavily encoded and his overarching theme is divine love. Thus, with twin flames it's even more intense...twin flames connect at all chakra or energy levels, or all "bodies." With the merge, their consciousnesses and all of these energy levels merge together. It's an actual physical phenomenological experience, and he also alludes to being connected during past lives in his mention of "historical events" sharing a relationship. The twin flame/soul union is essentially what he's discussing in the above passage, although his words are always multidimensional, so there are other interpretations for different contexts as well.
The whole KEY and this is what Joe's work is all about: The KEY is to become so fully conscious that you are aware of your connection at all times...death does not separate twin flame/twin soul couples (and ultimately this can be expanded to the understanding that there is no death).
So this discussion winds me back around to considering his use of ecumenical in the context of all this (the pages he had given me were pp. 62-67)…I will get back to this next time. This blog is already too long. However, one obvious ecumenical connection is a comparative study of creation stories. Do they all support the notion of being created as Divine Couples (as in the Adam and Eve story)? How can this be?
More soon….
P.S. He was into movies last night, and this morning he gave me two more videos instead of music. We actually had a long discussion about perfection. Of course no one can be perfect but with unconditional/conditional love shared between Twin Flames/Twin Souls it does not matter. It's hard to see our beloved in any other light than "perfect." Even their imperfections are loved as being perfect. And feeling that the other is "perfect" actually does not put pressure on them to be perfect because they understand the feeling in the same way—that they are loved completely, "imperfections" and all. That's the nature of Divine Love…it binds the two together in some kind of magical way that no other relationship would be able to match. They love each other unconditionally but at the same time conditionally. Conditionally comes about due to the nature of their union; there are just certain things that are an inseparable part of their relationship—because they are inseparable….only those in such union would understand the paradox, along with many other paradoxes.
Here are the related videos that came up with the clues "checking in" and "perfection." Mr. Bean is so funny! He's trying to be perfect by getting to his room before the other hotel guest. In the second video we are left pondering about what the woman has concluded after having spent her entire childhood trying to be so perfect.
PERFECTION [Short Films, 2004]
5:32 pm |